Introduction: 45 Must Have Books for a Home Library
I love to read. And I want to get more people reading. There are a ton of good books waiting for you to read. I am sure that there are books out there that will get you excited, but you have to learn about them. All the books that I include in the list of 45 must have books for a home library I have read. I am sure that by next year, as I read more books from the to-be-read pile, some of the books on this list may drop off.  
You may be wondering why I would compile such a list of books. In a nutshell, I want you to learn continuously, so that you develop a pool of ideas that you can draw on later when you have a problem to solve or decision to make. Ideas are currency that you can use.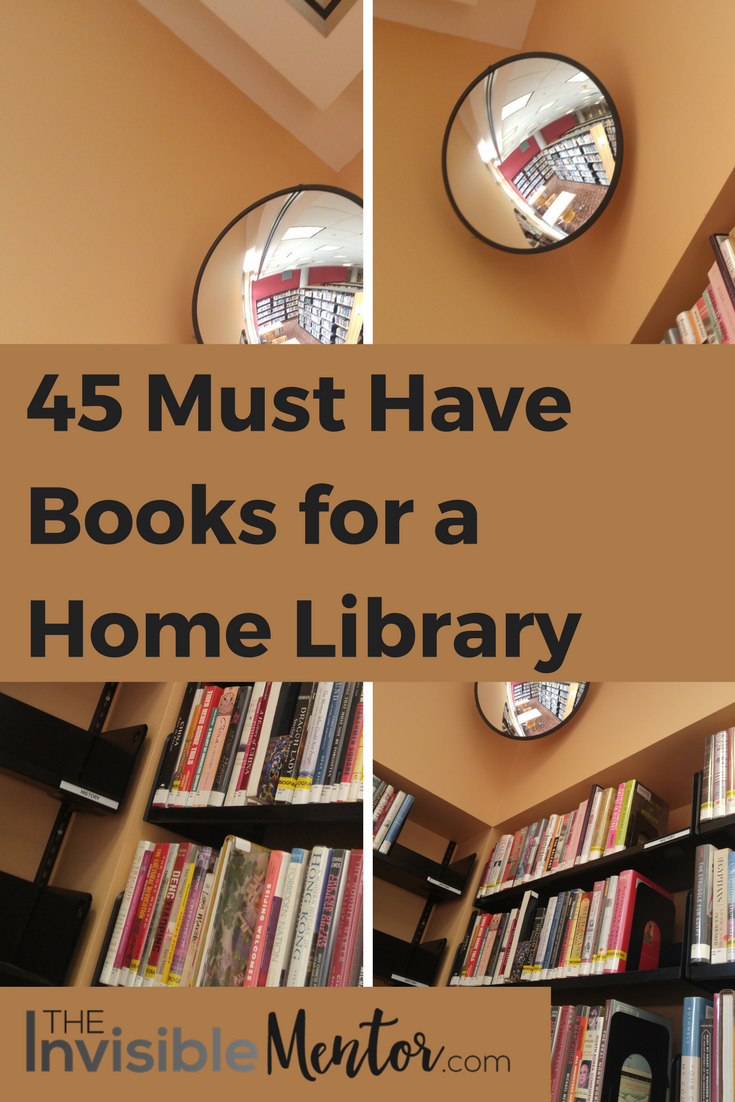 UPDATE: First Published in December 2017
If you have been reading this blog for a while, chances are, you know that I am interested in how to find ideas, how to combine them, and how to develop the skills you need to stay employable. And you know that I love reading books — that is part of my daily life. 
Because I have an interest in getting creative ideas, I read books about the topic, hoping that I will learn something new. Many of the books on ideas, have some type of model that you can use to find them. Whether you want to start a business, write a story, or solve a problem at work, the models are supposed to help you. But I realized that some of the models leave out some information, because they assume that it is a given. 
In Technique for Producing Ideas, James Webb Young Improved on Graham Wallas' work. In the preparation stage, there are two types of information you gather when trying to produce ideas: Specific and general. Specific information relates to the issue at hand, and general information is the type of information that you collect throughout your life. You are creating a body of knowledge that you can draw on when you need it. This article is concerned with general information, and the 45 books are meant to help you with that. 
Before I list the 45 books, I wanted to say that reading diverse books and reading broadly help you to become more well-rounded. Reading fiction gives you insights into human nature. If you want to hone your problem-solving skills, read detective stories and other mysteries. Use the clues given to solve the case. Many of the detective stories written years ago, are often superior to the ones you see on the shelves today.  
Science fiction takes you into a world of possibilities, while children's books help you to tap into your more creative self, reminding you of what it is like to leap into the world of make believe. Fairy tales and fables often have a moral that make you stop to think. And business books help you to stay on top of trends that can impact the way you perform your role. Reading the bestsellers is not necessarily a smart move, because at times, what you need to find is that one good idea – the one that can transform your life – is to read a book that is off the beaten path.  
Have you read?
---
Connect the Dots by Paul Jun, Book Review
---
45 Books to Have in Your Personal Library
Non-Fiction Books for Your Home Library
 Kon-Tiki: Across the Pacific in a Raft
 How to Read Literature Like a Professor: A Lively and Entertaining Guide to Reading Between the Lines, Revised Edition
 Sam Walton: Made In America
 Several Short Sentences About Writing
 The 10X Rule: The Only Difference Between Success and Failure
 The 3 Gaps: Are You Making a Difference?
 The Power of Visual Storytelling: How to Use Visuals, Videos, and Social Media to Market Your Brand
 Non-Obvious 2018 Edition: How To Predict Trends and Win The Future
 Business Model Generation: A Handbook for Visionaries, Game Changers, and Challengers
 Little Bets: How Breakthrough Ideas Emerge from Small Discoveries
Fiction Books for Your Home Library
 The Arabian Nights (New Deluxe Edition)
 Murder on the Orient Express (Poirot) by Agatha Christie (2007-09-03)
 The Devotion of Suspect X: A Detective Galileo Novel (Detective Galileo Series)
 The Coroner's Lunch (A Dr. Siri Paiboun Mystery)
 Beowulf: A New Verse Translation (Bilingual Edition)
 Girl with a Pearl Earring: A Novel
 Jamaica Inn
 Gilgamesh: A New English Version
 The Handmaid's Tale
 Bunker Bean
Final Thoughts: 45 Must Have Books for a Home Library
Witch-Doctor's Apprentice: Hunting for Medicinal Plants in the Amazon (Library of the Mystic Arts)

I have listed 45 must have books for a home library, how many of them have you read already? How do you plan to work your way through these books? I recommend that you make reading books an important part of your day.
UPDATE: April 2018 – As can be expected, I post a lot about books on Instagram. In fact, I am participating in the #The100DayProject, and I am using it as an opportunity to post tips about reading, something I have been meaning to do for over two years. Someone asked me for book recommendations and I referred him to this blog post and promised that I would get back to him in a day or so. I looked at the list, and I cannot believe that I left off the Witch-Doctor's Apprentice
. I have mentioned several times that this book allowed me to successfully complete an interviewing project because it gave me insights into how interact with people from Bolivia, Peru, and Colombia. Review of Witch-Doctor's Apprentice.
Further Reading