Initial Thought on Charles Robert Darwin Biography
Take a moment and think about who gave you your big break? For Charles Robert Darwin, an English naturalist, clergyman and professor of biology, John Stevens Henslow gave him his big break when he was recommended for the position of an unpaid naturalist aboard the HMS Beagle expedition to chart coastlines in South America and other areas of the Pacific. That one big break given to Darwin helped to chart his life.
Name: Charles Robert Darwin
Birth Date: February 12, 1809 – April 19, 1882
Job Functions: English Naturalist
Fields: Natural History, Geology, Evolution
Known For: The Origin of Species
Mini Biography of Charles Darwin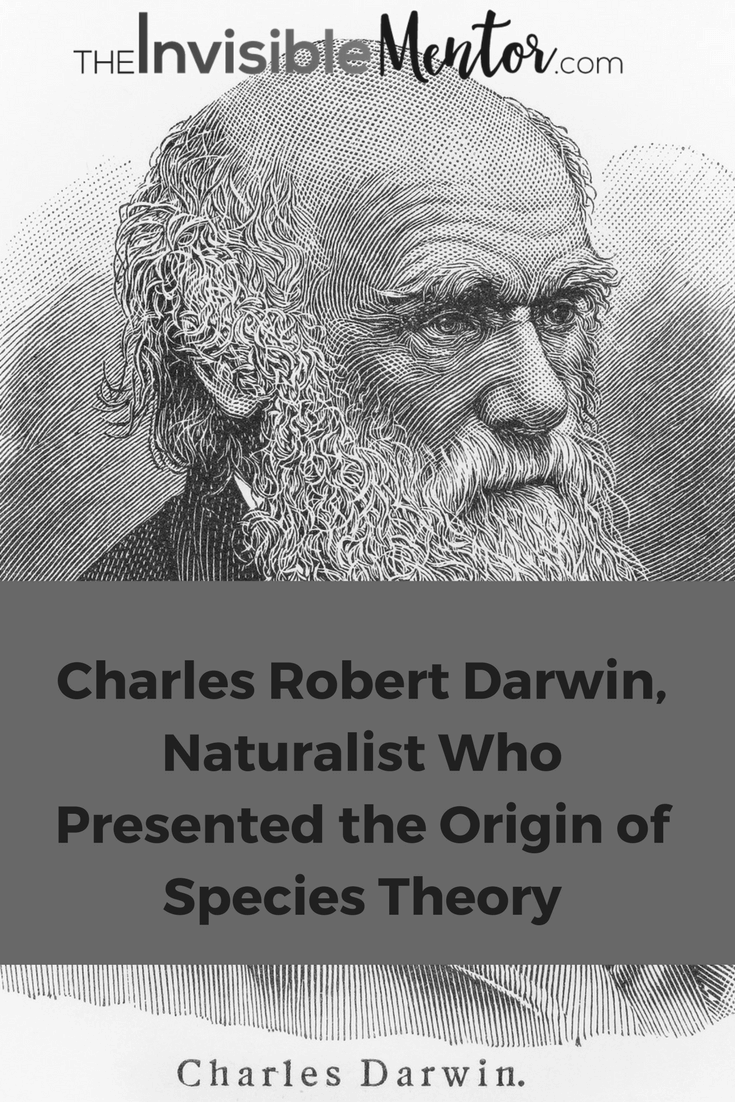 Charles Robert Darwin was born in the early 19th century in Shrewsbury, England, the fifth child of Robert and Susannah Darwin. Both his father, and grandfather, Erasmus Darwin were prominent physicians. His mother, who was the daughter of the famous porcelain maker Josiah Wedgwood, died when Darwin was only eight.
Darwin showed an early interest in natural sciences, especially geology. When he was nine, Darwin attended Shrewsbury School but was not a very good student. In 1825, his father recommended that he study medicine at the University of Edinburg, but Darwin's earlier failure to achieve academic distinction followed him there. "At Edinburgh, Darwin collected animals in tidal pools, trawled for oysters with Newhaven fishermen to obtain specimens, and made two small discoveries which he incorporated in papers read before the Plinian Society. He put forth no "strenuous effort" to learn medicine."
While at University
His father then suggested that he study theology at the Christ's College at the University of Cambridge in 1828. While at the University of Cambridge, instead of devoting time to clerical studies, Darwin often whiled the time away pursuing his passion for natural sciences. He "developed into an ardent entomologist, particularly devoted to collecting beetles; he had the satisfaction of seeing one of his rare specimens published in James Francis Stephens' Illustration of British Insects." Throughout young adulthood, Darwin enjoyed hunting, shooting, and specimen collection.
Darwin's cousin, William Darwin Fox an entomologist, guided him, and introduced him to clergyman and biologist, John Stevens Henslow who became his tutor in mathematics and theology, and mentor in his personal studies in botany, geology, and zoology. Henslow advised Darwin to join an expedition and delay his appointment to the Church of England. This turned out to be solid advice for Darwin.
Charles Darwin's Big Break
A few months after graduation, on December 27, 1831, when Darwin was 22, he embarked on an unpaid position, as part of an expedition team aboard the British survey ship HMS Beagle, headed for the coasts of South America, the Galapagos Islands, New Zealand and Tasmania. Originally, the expedition team was chartered for three years, but Darwin remained a part of the ship's crew for five years. He was tasked with undertaking the geological, zoological, and botanical side of the official naval survey.
During the voyage from December 27, 1831 to October 2, 1836, Darwin spent 535 days at sea and roughly 1200 on land. On the expedition, he had the first volume of the English geologist's, Charles Lyell's Principles of Geology, which directed his observations of the geological structure of Cape Verde Islands. But some of Darwin's observations in South America did not fit with Lyell's theories.
Darwin kept his field observations in notebooks with the specimens listed serially and their place and time of collection documented. His notes included details on flora, fauna, geological formation and ecology. In South America, Darwin paid attention to changes in the land brought about by earthquakes and volcanoes. On the 10 Galapagos islands Darwin observed and noted that the islands shared many species of flora and fauna in common, but each island also displayed distinct variations within the same group of organisms. Over the upcoming years and when he returned to England, Darwin pondered on the reasons for the variations.
Return to England
Upon his return to England in 1836, Darwin organized his notes. He also became good friends with Lyell whose work, Principles of Geology helped to direct him; and Darwin later became good friends with botanist Joseph Dalton Hooker, and biologist Thomas Henry Huxley. Both Lyell and Hooker were extremely helpful and supportive to Darwin, and Huxley became known as "Darwin's Bulldog" for his advocacy of Darwin's theory of evolution. Lyell welcomed Darwin's new research on coral reefs and encouraged him to publish other studies from his voyages.
Darwin was elected a fellow of the Geological Society in 1836, elected to the Athenaeum, the exclusive club for men distinguished in literature, art, or science in 1838, and became a member of the Royal Society in 1839. That same year, he published his Journal of Researches into the Geology and Natural History of the Various Countries Visited by H.M.S. Beagle.
Darwin had delayed publishing any of his research for a few years as he looked for explanations for evolution to account for the variations in species he had noted on the expedition. In 1838, Darwin found what he was looking for in Thomas Malthus's 1798 work, An Essay on the Principle of Population. In the essay, Malthus was concerned with overpopulation resulting in famine, and the possible competition for food which could ensue. Darwin surmised that in the struggle for existence,
"favourable variations would tend to be preserved and unfavourable ones to be destroyed. The result would be the formation of new species. Here then I had at last a theory by which to work."
Great Minds Think Alike: Charles Darwin and Alfred Russell Wallace
He confided his theory to Lyell and Hooker who urged him to publish his views, but as a very detail-oriented person, Darwin wanted to further work through his theory, and at the time he was only half-way through his book. In the summer of 1858, Darwin received an essay from Alfred Russell Wallace containing ideas that were very similar to his. Wallace, an English naturist writing from the East Indian Archipelago was asking Darwin to appraise his work. It turns out that Wallace had also read Malthus' essay.
Once again, Darwin turned to his close friends Lyell and Hooker and submitted his dilemma. He wrote, "Your words have come true with a vengeance – that I should be forestalled." His friends proposed that Darwin and Wallace collaborate and do a joint announcement. They publicly declared their hypothesis by submitting the paper, On the Tendency of Species to form Varieties and on the Perpetuation of Varieties and Species by Natural Means of Selection to the Linnean Society.
On November 24, 1859, The Origin of Species by Means of Natural Selection or the Preservation of Favoured Races in the Struggle for Life over 500 pages in length appeared. The entire first edition of 1,250 copies was sold out on the day of publication. There was public outcry, but Darwin already had friends like Thomas Henry Huxley, also known as "Darwin's Bulldog" who fiercely defended his ideas of evolution. The Origin of Species "stimulated a general participation by intellectuals of varied casts and backgrounds, some of whom were poorly qualified to join the battle. Philosophers, theologians, biologists, geologists, anthropologists, sociologists, even politicians and men of letters, joined in the melee, with victors and vanquished almost indistinguishable."
Please Read: On Natural Selection by Charles Darwin, a Book Review
Interestingly enough, Darwin was not the first to propose that species could change over time. For instance, Robert Hooke postulated that fossils could be the remains of vanished ancient species; Jean-Baptiste de Lamarck held that species could evolve through the inheritance of acquired characteristics; and Darwin's own grandfather Erasmus Darwin had suggested that species might be developing over time by passing changes on through reproduction.
After being a mediocre student all his life, Darwin found success when he focused on his strengths and passions. He kept notebooks, always documented his work, and had a network of people with whom he shared his ideas. And it's also important to document your work because at any point in time people in different places share the same ideas.
Other Publications
Journal of researches into the geology & natural history of the various countries visited during the voyage of H.M.S. Beagle round the world
(1839)
The Voyage of the Beagle
(1840)
The Structure And Distribution Of Coral Reefs
(1842)
A Monograph on the Sub-class Cirripedia With Figures of all the Species.
(1851, 1854)
The Descent Of Man
(London 1871)
The Expression of the Emotions in Man and Animals
(1872)
Books By/About Charles Darwin
The Origin of Species: 150th Anniversary Edition
 Darwin's Four Great Books (Voyage of the Beagle, The Origin of Species, The Descent of Man, The Expression of Emotions in Man and Animals)
Darwin: The Five Essential Works
The Descent of Man
The Voyage of the Beagle: Charles Darwin's Journal of Researches (Penguin Classics)
Oakshot Complete Works of Charles Darwin (Illustrated, Inline Footnotes) (Classics Book 10)
The Expression of the Emotions in Man and Animals
The Autobiography of Charles Darwin
The Autobiography of Charles Darwin: 1809-1882
Who Was Charles Darwin?
Charles Darwin: A Life From Beginning to End
Darwin: The Voyage That Shook The World
Works Cited/Referenced
Encyclopedia of Population
Encyclopedia of World Biography
Macmillan Encyclopedia of Death and Dying
Encyclopedia of Science, Technology and Ethics
International Encyclopedia of the Social Sciences
New Catholic Encyclopedia
World of Earth Science
Gale Encyclopedia of Psychology
Science and Its Times
UXL Encyclopedia of World Biography
Encyclopedia of European Social History
How to Read a Book, pp393-395
Quantum Leaps: 100 Scientists Who Changed the World, Jon Balchin
Books that Changed the World, Andrew Taylor