Introduction: Review: American Sketches: Great Leaders, Creative Thinkers, and Heroes of a Hurricane by Walter Isaacson
American Sketches: Great Leaders, Creative Thinkers, and Heroes of a Hurricane
Walter Isaacson is a biographer, and he came on my radar because he wrote an authorized biography of Steve Jobs. Steve Jobs was someone who I was very interested in, and would like to learn more about. I decided to check out Walter Isaacson's writing to see if I liked his style. At the bookstore I had a few options, and narrowed it down to Benjamin Franklin: An American Life
and American Sketches: Great Leaders, Creative Thinkers, and Heroes of a Hurricane. Since I had read the Autobiography of Benjamin Franklin, I purchased my other option, American Sketches which is a collection of previously written essays by Isaacson.
I felt really drained reading the first few sections of American Sketches and had to put the book down for a few days. I later realized that I was drained because the first few sections were about politicians, some of the choices and decisions they made, and the impact they had. And politics is also not something that I am particularly interested in. When I returned to American Sketches and slogged through the sections about the politicians, I really got into the book, enjoyed it and found it a worthwhile read.
What is American Sketches: Great Leaders, Creative Thinkers, and Heroes of a Hurricane by Walter Isaacson About?
American Sketches consists of nine sections, and each section includes several essays: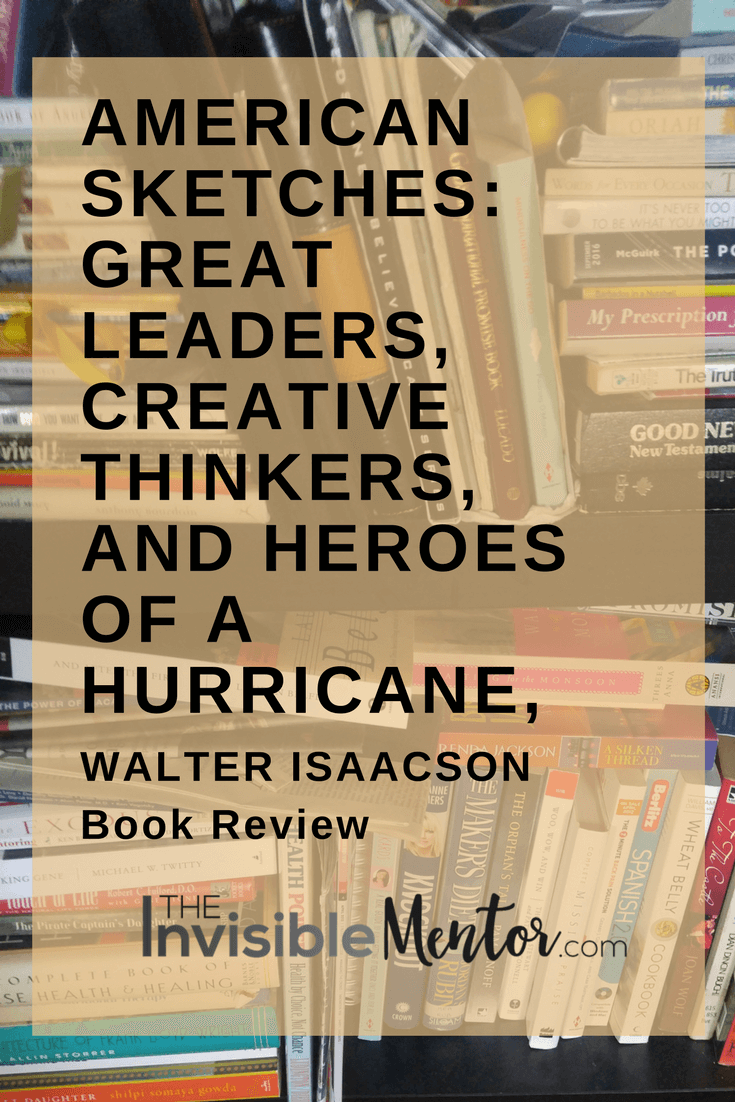 Franklin and Other Founders
Statecrafters

McGeorge Bundy, the Brightest
Kissinger and the Roots of Realism
He's Back
Kissinger Reappraised
James Baker, Wise Man?
Madeline's War
Colin Powell, the Good Soldier
George Tenet and the Instinct to Please

Reagan and Gorbachev
The Clintons
Albert Einstein
The Age of Technology

In Search of the Real Bill Gates
The Passion of Andrew Grove
Our Century… and the Next One
The Biotech Age
Person of the Century

Journalism
Interlude: Woody Allen's Heart Wants What It Wants
New Orleans, Mon Amour
Sections 2 to 4, which translate to pages 49 to 125 is what I found extremely draining. But if you enjoy politics you will appreciate those sections. Isaacson's writing is very academic, and I would go as far as to say that for many sections of American Sketches, it would be easier to understand if the reader had at least a university degree. That's not a bad thing, we should be reading books that stretch us. Isaacson is a trained journalist who has worked for The Times in the UK and Time magazine. He was also the managing editor of Time magazine, chairman and CEO of CNN, and is now CEO of the Aspen Institute.
Even though Isaacson's writing is very academic, I appreciate his work because he is very thorough and whatever he writes is very well researched. The book had a feel of honesty about it, and I was more informed after I read it. While I read the essay about Bill Gates, which mentioned Paul Allen, Steve Ballmer, Nathan Myhrvold, I found that I wanted to read Paul Allen's memoir released recently to compare Allen's impressions of Gates, Ballmer and Myhrvold with Isaacson's.
In Isaacson's essays you often get an intimate look at the people he writes about. He covers a topic through the eyes of a real person to bring the topic to life. You also get new information from him even if you are knowledgeable of the subject or the person. For a while there was an obsession with the public about Einstein's religious beliefs. Some thought he was an atheist, others thought he was a pantheist, and Isaacson presented excerpts from Einstein records so you can see for yourself what Einstein really said.
And you saw that throughout the book. He presented a transcript of his interview with Woody Allen who was in the media at the time because he started to date Mia Farrow's adopted daughter Soon-Yi Previn. Mia Farrow was Allen's former lover. Isaacson asked Allen the tough questions such as, "How could you get involved with someone who was almost a daughter? But wasn't it breaking many bonds of trust to become involved with your lover's daughter? Did you really take nude pictures of Soon-Yi? Did you molest your daughter? Will your relationship with Soon-Yi continue? Do you consider it a healthy, equal relationship?" His personal feelings about how he felt about the situation did not cloud the way he behaved. For that moment in time, you got an intimate look at Woody Allen and the type of person he is.
Am I better off for having read American Sketches: Great Leaders, Creative Thinkers, and Heroes of a Hurricane
? Absolutely! The best books are not necessarily the easiest to read, though it helps. I still didn't enjoy the sections on politics, but I know that people who enjoy political science will appreciate the new insights in Isaacson's essays. In the journalism section he presented models that he thinks would work for the future of journalism. Originally from New Orleans, his essay talked about the impact of Hurricane Katrina and how rebuilding slow was the best thing for the city, and based on his reasons you saw that as well.
Final Thoughts: American Sketches: Great Leaders, Creative Thinkers, and Heroes of a Hurricane by Walter Isaacson
A really good book transforms people, and at the very least, opens them up to a new way of thinking. I got a better sense of who the people were in the essays because of Isaacson's thoroughness in the way he told the stories through the people. I recommend American Sketches: Great Leaders, Creative Thinkers, and Heroes of a Hurricane
by Walter Isaacson and I am sure that a few of his essays will resonate with you even if his writing is too academic.
UPDATE: First Published May 2011
 American Sketches: Great Leaders, Creative Thinkers, and Heroes of a Hurricane
 Leonardo da Vinci
 Einstein: His Life and Universe
 Benjamin Franklin: An American Life
 The Innovators: How a Group of Hackers, Geniuses, and Geeks Created the Digital Revolution
 Steve Jobs
 The Wise Men: Six Friends and the World They Made
 Kissinger: A Biography