In 1927, at the age of 25, Charles Lindbergh did what many had failed to do. He flew solo from New York to Paris. Though he arrived in Paris during the night, tens of thousands of people were awaiting his arrival. Lindbergh moved from a relative "nobody" to instant international acclaim. His fait accompli opened a world of possibilities for international travel.
Name: Charles Lindbergh
Birth Date: February 1902 – August 1974
Job Functions: American Aviator, Author, Inventor, Explorer, and Social Activist
Fields: Aviation
Known For: First flier to make non-stop transatlantic flight from New York to Paris
Have you read?
---
Amelia Earhart, Charles Lindbergh, the Wright Brothers: Aviation, a Brief History
Amelia Earhart, Legendary Aviator (and the fatal mistakes she made)
---
Mini Biography Charles Lindbergh
Charles Lindbergh left his studies in mechanical engineering at the University of Wisconsin to study flying in Lincoln, Nebraska from 1920 to 1922 and made his first solo flight in 1923. Also in 1923, he purchased surplus World War I Curtiss airplane to entertain the American public.  In 1924 he enrolled as a cadet in the US Air Force Reserve and graduated the next year. In 1925 he became head pilot for Robertson Aircraft. Flying was in Lindbergh's blood, it was his passion. He worked as an airmail pilot between Chicago and St. Louis in 1926.
In 1919, French hotel proprietor, Raymond Orteig posted a $25,000 prize for anyone who could fly solo, non-stop between New York and Paris. Still unclaimed in 1927, Lindbergh wanted to compete for the $25,000 so he set the process in motion. He secured financial backing from several St. Louis businessmen to have his airplane The Spirit of St. Louis built, and oversaw every aspect of the design and construction of the craft. He worked out his own navigation system and interpreted weather reports. He also secured permission from Admiral Byrd to use the runway at Roosevelt Field in Long Island he had prepared for himself.
On May 20, 1927, Lindbergh set off on this historic flight in his silver-winged, single-engine plane for Le Bourget Airport just outside of Paris. Thirty-three and one-half hours later, having traveled 2,610 miles, Lindbergh made history. He succeeded where many had failed and was catapulted from obscurity to fame instantly.
Lindbergh was awarded many honours and medals – Congressional Medal of Honor, the French Chevalier Legion of Honor, the Royal Air Cross (British), and the Order of Leopold (Belgium) – for his accomplishment. It was still early days in the aviation industry, the Wright brothers had successfully flown the aircraft they made for the US Signal Corps in 1908 – nearly two decades earlier.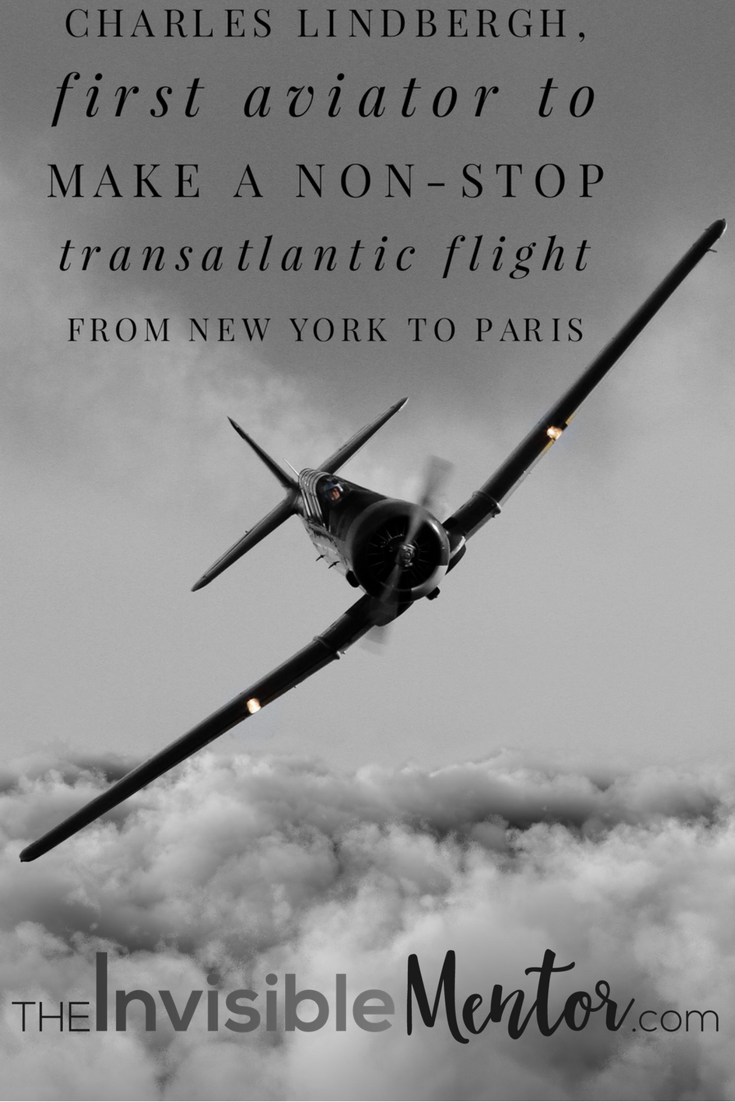 By flying across the Atlantic Ocean, Lindbergh had now opened up a world of possibilities for airplanes and traveling. He flew across the US and the world advocating for commercial flights and became technical adviser to many airlines.
In 1929, Lindbergh married Anne Spencer Morrow, the daughter of a US Ambassador to Mexico. Husband and wife often flew to together – In 1931, they flew to Asia, mapping out air routes to China and in 1933 they explored possible transoceanic air routes.
Tragedy struck in 1932 when their infant son was kidnapped, and though they paid a $50,000 ransom, the baby was found dead. After Bruno Hauptman was convicted and executed for the crime, in 1935 the Lindbergh's flew to Europe because the press had sensationalized the tragedy and constantly hounded them. While in France, Lindbergh worked with American surgeon, Alexis Carrel to perfect an "artificial heart and lungs, a perfusion pump to keep organs alive outside the body by supplying blood and air to them."
In the late 1930s, Lindbergh fell out of favour with the public when he accepted an invitation from Nazi leader Herman Göring to tour German aviation centers. He caused further damage to his reputation when he stated that America should stay out of World War II, which he felt was Europe's problem. However, he helped with the American efforts and served as civilian technician for aircraft companies after the Japanese attack in 1941.
Lindbergh regained some of the public favour because of the popularity of his and his wife's books. Charles Lindbergh won a Pulitzer Prize for his autobiography, The Spirit of St. Louis.
Charles Lindbergh's Books
We
(1927)
The Spirit of St. Louis
(1953)
Culture of Organs
(He wrote this with Alexia Carrel, published in 1938)
Of Flight and Life
(1948)
The Wartime Journals of Charles A. Lindbergh (1970)
Boyhood on the Upper Mississippi: A Reminiscent Letter
(1972)
An Autobiography of Value
(Published posthumously in 1977)
Steps to Success
Followed his passion and believed in himself.
Lindbergh believed that he could fly solo across the Atlantic and made it happen by getting the financial backing necessary and prepared thoroughly.
Kept up-to-date with his flying.
Promoted flying by going on tours.
Provided technical advice to several airlines.
Wrote books, one of which won him a Pulitzer.
Works Cited/Referenced
Encyclopedia of World Biography
Encyclopedia of the Great Depression
Bowling, Beatniks, and Bell Bottoms: Pop Culture of 20th-Century America
The Times, Great Lives: A Century of Obituaries
Science and its Times, Volume 6
 Lindbergh

 The Flight: Charles Lindbergh's Daring and Immortal 1927 Transatlantic Crossing

 The Spirit of St. Louis

 Charles Lindbergh

 Charles A. Lindbergh: Lone Eagle (Library of American Biography Series)

 Charles Lindbergh, Graphic Biography (Saddleback Graphic: Biographies)

 The Wartime Journals of Charles A. Lindbergh

 Charles A. Lindbergh: Autobiography of Values