Introduction: Madame Bovary by Gustave Flaubert
Madame Bovary (Penguin Classics)
The timeless classic Madame Bovary: Provincial Manners (Oxford World's Classics) is one of those books which is constantly on the various lists of must read books. And I can see why! Gustave Flaubert has written a masterpiece, there is no doubt about that, but at the end of Madame Bovary, this deep melancholy wrapped it arms around me and I quickly had to pick up another book which would make me laugh.
What a depressing ending. If we do not have hope, then what do we have? There has to be hope amidst despair, and I did not feel this while reading Madame Bovary. I didn't get the sense that the key characters were growing to be better people. There was no feeling of redemption either.
Content: Madame Bovary by Gustave Flaubert
Madame Bovary by Gustave Flaubert is set in northern France in the 1850s. There are two Madame Bovaries in the book, but the main character is Emma Bovary the daughter-in-law, and her husband Charles Bovary, the senior Madame Bovary's son.
The older Madame Bovary is a very controlling woman who marries off Charles to a widow who was much older than he was. When she dies, Charles marries Emma, a farmer's daughter, who he met while treating her father. Emma marries Charles, thinking she is heading to Adventureland and instead ends up in Snoozeville. Although Charles adores his wife, and is very kind to her, he is exceedingly boring and not much fun to be around. And after marriage, he takes no pains in his appearance. Emma becomes bored with him and lives a life of adventure through the novels she reads and develops a taste for passion and the finer things in life.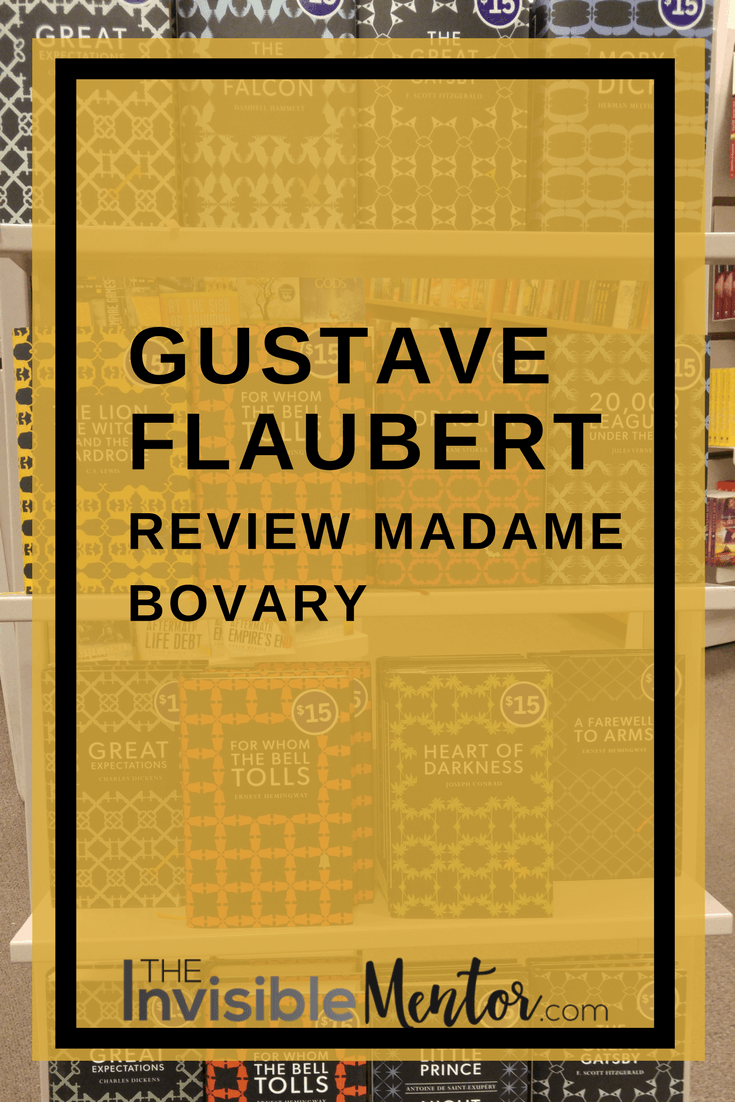 As the story unfolds, you see that Emma and Charles are not well-matched, and she becomes very discontented with her life. Emma meets Leon a young student who she yearns for but doesn't do anything about it, then he moves away. Later she meets Rodolphe a wealthy, local landowner, who pursues her relentlessly. She makes plans with Rodolphe to run away, but at the last minute he "discards" her in a cruel manner after a three-year love affair.
Emma is devastated and becomes quite ill. She slowly recovers, and Charles takes her to the nearby town Rouen to see an opera in a desperate act to aid her recovery. While there, they reconnect with Leon who soon after also pursues Emma. She succumbs once again, and tells Charles she is taking piano lessons and sets her plans in place to visit Leon at a hotel in Rouen each week. To cover her actions, she makes a deal with the piano teacher to keep her cover. Emma is a master of deceit.
Emma spends money faster than Charles earns it because she has to have beautiful things, many of which she buys on credit. She becomes so mired in debt that when they call in the loans she cannot pay them and drives her husband into bankruptcy. Emma eats arsenic powder which she steals from a neighbour who is a pharmacist. She dies a painful death, which is described quite vividly, and of course Charles is so distraught because he has always been smitten with her.
He later finds the evidence of her betrayal and one disaster after another keeps on happening to the Bovary family. To me it was just too much. Flaubert was making a statement with Madame Bovary. According to Books That Changed the World by Andrew,
"Flaubert's meticulous attention to realistic detail and the presentation of immediately recognizable scenes and exchanges made the novel appear shockingly like an objective depiction of provincial life – which was exactly what he wanted…Flaubert's undisguised contempt for bourgeois manners and morality…led to charges that he was condoning adultery…"
Final Thoughts: Madame Bovary by Gustave Flaubert
I recommend Madame Bovary by Gustave Flaubert because it's truly a masterpiece, but if you are looking for a happier ending like I was, this is not the book for you. So why read Madame Bovary? It makes a perfect financial case study, and it's very well written and deals with serious issues that most feel uncomfortable talking about in our society even today: Infidelity, suicide, class structures, discrimination, greed and our finances.
 Madame Bovary (Penguin Classics)
 Sentimental Education (Penguin Classics)
 Three Tales (Penguin Classics)
 Gustave Flaubert: The Complete Novels (The Greatest Writers of All Time)
 A Simple Heart (The Art of the Novella)
 The Temptation of Saint Anthony (Modern Library Classics)
 The Greatest Works of Gustave Flaubert: Madame Bovary, Senitmental Education, November, A Simple Heart, Herodias and more