Do you feel as if you're not accomplishing your goals? Are you living up to your true potential? Are you playing it safe by making small hops? You're not a rabbit. You're capable of so much more. The Big Leap by Gay Hendricks can help you!
The book is loaded with lots of exercises to help you move through the limits you set. Work through the hidden barriers that prevent you from achieving phenomenal success.
In a hurry? CLICK HERE to grab your personal copy of The Big Leap by Gay Hendricks today!
Initial Thoughts: The Big Leap by Gay Hendricks
The Big Leap
by Gay Hendricks is the best personal development book I've read in a long time. The book gave me a new way to look at my capabilities. There are four main zones that anyone of us operates in: Incompetence, Competence, Excellence and Genius. But we should strive to operate in our Zone of Genius all the time.
UPDATE: First Published August 2011
The Content: The Big Leap by Gay Hendricks
Four Main Operating Zones (Where are you operating now?)
Zone of Incompetence: You are bogged down doing tasks that you are not good at, that others can do much better. The solution is to avoid doing them altogether.
Zone of Competence: You are competent at doing the activities but others can do them equally well. Delegate and let others do those tasks and free up your time to do the things that make you unique.
Zone of Excellence: You perform activities extremely well and make a great living, but you are capable of much more. You are quite comfortable and may be tempted to take it easy. But there is only one place that you will truly thrive and that's in the next zone.
Zone of Genius: This is the zone where you liberate your true genius and it puts you on the ultimate path of living a successful and satisfied life.
According to Hendricks, with an investment of 10 minutes every day you can end up spending 70 percent or more of your time operating from your Zone of Genius. The reason that most of us never reach our Zone of Genius lies in the Upper Limit Problem, which is actually four hidden barriers based on fear and false beliefs. When you identify and remove the fear and false beliefs you are ready to rewrite your life story and invent a new life based on your true genius.
Four Hidden Barriers That Hold Us Back
Hidden Barrier One: Feeling Fundamentally Flawed – You feel that something is wrong with you. Perhaps you have feelings of undeservedness and unworthiness. So, you think it's impossible for you to live a successful and fulfilled life. In the past, every time you experienced success, these thoughts infiltrated your mind and somehow you sabotaged yourself.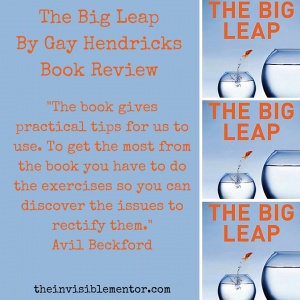 How to Overcome Hidden Barrier One: Now when you experience success, and the thoughts of being flawed or unworthy come into your mind creating cognitive dissonance, acknowledge the thought and recognize that you are facing an Upper Limit Problem. It's decision time, you can go back to how things were, or you can let go of the limiting belief and move to a higher level.
Hidden Barrier Two: Disloyalty and Abandonment – You refuse to expand and embrace true success because you feel that if you do, you will have to leave your friends and family behind and you do not want to be alone. One way to find out if you are facing this hidden barrier is to ask yourself two questions:
"Did I break the family's spoken or unspoken rule to get to where I am?"
"Even though I am successful, did I fail to meet the expectations my parents had for me?"
If you answered yes to either of the two questions, you are facing Hidden Barrier Two. Look at the pattern in your life, do you experience success then punish yourself by putting the brakes on things?
How to Overcome Hidden Barrier Two: The best way to move beyond this Upper Limit Problem is through communication. Speak openly with your family and friends, most likely things will work out.
Hidden Barrier Three: Believing That More Success Brings a Bigger Burden – If you have feelings that somehow you are a burden to others, those feeling will immobilize you and prevent you from rising to your true potential.
How to Overcome Hidden Barrier Three: Whenever these feelings of guilt are triggered, recognize that it's because of the Upper Limit Problem and realize that you have nothing to be guilty of, so release the guilt.
Hidden Barrier Four: The Crime of Outshining – You believe that if you become too successful you will make others look bad. It appears that Hidden Barrier Four is prevalent among gifted and talented children, and often continue to play out in their adult lives. Gifted children are often blamed for taking the spotlight off other family members. Look back to when you have experienced successful breakthroughs, were you gripped by fear? Were you afraid of outshining someone from your past? Did you feel that that person deserved the success more than you did? Be honest when answering these questions.
How to Overcome Hidden Barrier Four: Now is a great time to read Marianne Williamson's poem "Our Deepest Fear."
Our Deepest Fear, by Marianne Williamson
From A Return To Love: Reflections on the Principles of A Course in Miracles
"Our deepest fear is not that we are inadequate. Our deepest fear is that we are powerful beyond measure. It is our light, not our darkness that most frightens us. We ask ourselves, Who am I to be brilliant, gorgeous, talented, fabulous? Actually, who are you not to be? You are a child of God. Your playing small does not serve the world. There is nothing enlightened about shrinking so that other people won't feel insecure around you. We are all meant to shine, as children do. We were born to make manifest the glory of God that is within us. It's not just in some of us; it's in everyone. And as we let our own light shine, we unconsciously give other people permission to do the same. As we are liberated from our own fear, our presence automatically liberates others."
Identifying the Upper Limit Problem
You may be wondering how you will identify your Upper Limit Problem, so that you may breakthrough to your Zone of Genius, and that's an excellent question. The reason why I loved The Big Leap, is that it walks you through the Upper Limit Problem, shows you how to spot the Upper Limit Problem in your life and how to live in your Genius Zone.
The book provides many examples, so you can get a sound understanding of the issues. While I was reading The Big Leap by Gay Hendricks, I was able to figure out what my hidden barriers were. You will be able to do that as well.
Time: Do You Have Enough?
To accomplishing more in life, Hendricks dealt with the issue of time. Most of us believe that we do not have enough time to do everything. The author suggests that instead of viewing time in the Newtonian manner, we should instead view it in an Einstein manner, which is that we control our time. According to Hendricks, "You're where time comes from."
At first I couldn't wrap my head around that statement. But after I read the examples, I understood what he meant by that. Essentially it means that you have enough time to do the things that are most important to you and to work on them. To do this, you have to take full control of your life.
Four Great Quotes from The Big Leap by Gay Hendricks
"In the face of so much evidence that life hurts and is fraught with adversity on all fronts, having a willingness to feel good and have life go well all the time is genuinely a radical act.
The seductive comforts of success can lull us into accepting the status quo.
Discovering your Zone of Genius is your life's Big Leap. Everything up until now has been about hops, not leaps. Hopping, though it seems safe, is actually hazardous to your health. If you confine yourself to hops, you run the risk of rusting from the inside out.
Fritz Perls, MD, psychiatrist and founder of Gestalt therapy said, "Fear is excitement without the breath." This intriguing statement means that the very same mechanisms that produce excitement, also produce fear, and fear can be transformed into excitement by fully breathing into it."
Four Genius Questions to Ask Yourself
What do I most love to do?
What work do I do that doesn't seem like work?
In my work, what produces the highest ratio of abundance and satisfaction to the amount of time spent?
What is my unique ability?
Final Thoughts: The Big Leap by Gay Hendricks
 The Big Leap: Conquer Your Hidden Fear and Take Life to the Next Level
I recommend The Big Leap by Gay Hendricks for those who want to realize their full potential.
The book gives practical tips for us to use. To get the most from the book, you have to do the exercises, so you can discover the issues to rectify them.
The Upper Limit Problem often manifests in the form of illnesses, you make yourself sick, so that you do not have to do something that you fear.
Grab your copy of The Big Leap
by Gay Hendrick, and start working on the exercises today!
Gay Hendricks Books
Learning To Love Yourself
A Year of Living Consciously
The Fifth Rule of Ten
Conscious Loving Ever After
Learning to Love Yourself Workbook
The Second Rule of Ten
The Fourth Rule of Ten
The First Rule of Ten
The Ten-Second Miracle
Five Wishes: How Answering One Simple Question Can Make Your Dreams Come True
The Broken Rules of Ten
Conscious Living
The Third Rule Of Ten
Conscious Breathing
Attracting Genuine Love
Spirit-Centered Relationships
Learning to Love Yourself
The Big Leap
&