Week in Review – Stretch Assignments, Book Review, Interesting Websites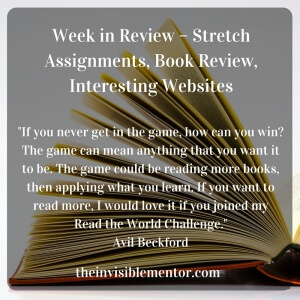 I am repeating Sarah Arrow's 30-Day Blogging Challenge. I am on Day 26, so I can see the finish line. The thing is this, if you never get in the game, how can you win? The game can mean anything that you want it to be, it doesn't have to be about blogging. The game could be reading more books, then applying what you learn. If you want to read more, I would love it if you joined my Read the World Challenge.
Related Post: Read the World Challenge – Join Us
Sunday – Interesting Websites, Blog Posts and Other Tidbits: In today's post, I feature a few websites that I find interesting. You will find a couple of websites that are new to you. Click through to read.
Monday – How to Approach Your Stretch Assignment – It's All in the Information: On Mondays: I am a resident blogger over at Birds on the Blog. I used to write a blog post for over there as well as one for The Invisible Mentor. Sometimes that works out okay, but other times it's too stressful trying to do so much. Over at Birds on the Blog, I'm doing a series on taking control of your career. In the second installment in the series, I write about how to gather information for stretch assignments. In fact, you can use the process to gather information for any project you are working on.
Related Post: Take Control of Your Career, or Your Career Will Take Control of You
Tuesday – Inspiring Quotes: Ideas Are On My Mind: The quotes mentioned in this blog post have one thing in common. They are all about ideas. Click through for inspiration.
Related Posts
Over 25 Bookish Quotes and Ideas to Inspire You
How to Spot a Great Idea – What to Look For
52 Quotes to Keep You on Track in 2016
Wednesday – Want to Become a Better Writer? Here Are Tips from Neville Medhora: To become a better writer, I have been investing time in reading books about writing. But you become a better writer by writing. That's the case with anything. You become better by practicing. There are several great tips in  This Book Will Teach You to Write Better by Neville Medhora. There is a great formula for writing headlines.
Related Post: Notes on Several Short Sentences About Writing by Verlyn Klinkenborg
Thursday – Mark Cuban: Business and Success Lessons from Dallas Mavericks Owner: I have been reading a lot for the Read the World Challenge. In today's blog post, I share some of the things I learned from How to Win at the Sport of Business
by Mark Cuban. The book is filled with lots of practical tips.
Friday – Did This Ever happen to You… Is the Universe Sending You a Message?:  I was struggling to figure out what to write. I decided to clean my space because that also cleans my mind. I noticed a piece of paper and things took off from there. Click through to learn more.
Please take the conversation to my  Facebook page. You can still join the Read the World Challenge – it's a new kind of reading challenge.