Mrs Queen Takes the Train by William Kuhn, Book Review
Mrs Queen Takes the Train: A Novel
is a novel by William Kuhn and is a story about Queen Elizabeth II, the Queen of England. The book humanizes the monarch and presents a woman with a wicked (in a good sense) sense of humor, and one who embraces multiculturalism. While I was reading Mrs Queen Takes the Train, I was reminded of The 100-Year-Old Man Who Climbed Out the Window and Disappeared
 (Review) by Jonas Jonasson because both stories are told in a similar way. When the sales associate recommended Mrs Queen Takes the Train, she told me that I would enjoy it if I enjoyed The 100-Year-Old Man Who Climbed Out The Window And Disappeared. I'm not sure if that was good advice because both books are funny but very outrageous, and I personally think that one of them is enough.
I laughed a lot while reading Mrs Queen Takes the Train: A Novel
, the book is well written, and I think that William Kuhn did a good job setting up the story and the situations in which he places the Queen. In the book, the Queen is suffering from mild depression, and she acknowledges that it is an illness and regrets that she didn't take it more seriously when Princess Diana, Princess of Wales was suffering from it.
The Royal family's popularity is waning in England, and the Prime Minister is capitalizing on that fact to get the populace to like him by taking away privileges such as the decommissioning of the Royal Ship, Britannia. And now he is proposing the decommissioning of the Royal Train because it is too expensive to operate. This really ticks off the Queen as he is taking away her privileges, and she takes a shot at him, letting him know that he will only have one term in office, and this doesn't go over very well with him. The Queen had some very happy times on Britannia, and it makes her sad now that she no longer has access to it.
The Queen is sad and depressed because she is feeling her age, and slowing down, yet she still has responsibilities and obligations to the people of England as their Head of State. At the time the book was first published, the real Queen was 86 years old. In the book, the Queen is having a hard time understanding how to use the computer, despite having several lessons, and the reader cannot help but feel sympathy because we have all been in situations where we had a difficult time learning a new skill. One of her teachers is frustrated, so the Queen is very reticent about calling when she needs assistance.
Can you imagine seeing the Queen performing different yoga poses? She starts taking yoga to become more limber, and it is working. How about wearing a hoodie? That's what she does one day when she walks through the gates of Buckingham Palace. While she is riding the public train, disguised under the hoodie, she sits and eats with the "common" folks, and learns what people really think about her and the Royal family.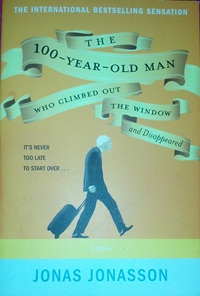 Mrs Queen Takes the Train: A Novel
is a novel by William Kuhn is hysterically funny, and it's interesting how the people who work for her go about finding her when she wanders off taking her train ride. But I am not convinced that you will enjoy the book, if you have already read The 100-Year-Old Man Who Climbed Out the Window and Disappeared
.
For the next little while, I'm going to quit stalling by asking sales associates for book recommendations, and instead focus on the classics, which I am supposed to reading. Have you read either Mrs Queen Takes the Train or The 100-Year-Old Man Who Climbed Out The Window And Disappeared? Did you enjoy them enough to recommend? Share your thoughts in the comment box below. Liked this post? Share it and subscribe to my RSS feed and get loads more!
Author Bio: Avil Beckford, an expert interviewer, entrepreneur and published author is passionate about books and professional development, and that's why she founded The Invisible Mentor and the Virtual Literary World Tour to give you your ideal mentors virtually in the palm of your hands by offering book reviews and book summaries, biographies of wise people and interviews of successful people.
Book links are affiliate links.
Kindle