There are many times in our lives when we have to make a decision, should I move on or stay in the current situation? Should I move on to a new job or should I stay in the old job? Should I move on and accept the promotion with much more money, but much more accompanying stress as well, or should I stay in my current role and have a happier life? How do we decide if we move on or stay the course?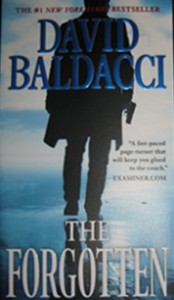 To answer the question of whether to move on or stay the course depends on what is important to us. What are you trying to achieve in life? Will moving on or staying help you to get there? The idea for the post was born out of a very simple situation that I was facing, and it made me think. I conducted the Virtual Literary World Tour as a way to elevate the level of my reading as well as honor and celebrate the memory of someone close to me. The Tour did not turn out the way I envisioned, but I get to do it again the right way, making the necessary changes.
Some of you may know that I love murder mysteries and detective stories, and recently I have been reading books by local talent. But there are certain authors whose works I have been reading for over 17 years, that's a long time. And the books I have been reading are part of a series – Patricia Cornwell's Scarpetta novels, Sara Paretsky's VI Warshawski novels, Jonathan Kellerman's Alex Delaware novels, and Faye Kellerman's Peter Decker/Rina Lazarus novels – and I am feeling that I have outgrown the books. I have been feeling like this based on the last one or two novels, and I have asked myself should I move on to other books or should I stay and be loyal to the series?
I decided it was time to move on, but I was recently in the World's Biggest Bookstore, and they had a sale, two mass market paperback novels for CDN $15, which was a very good deal so I decided to purchase two books (They are usually $11 each). I noticed that there was a new Scarpetta novel, so that was one of my selections. As I was reading the book, I kept on asking myself, why am I reading this, this is not interesting to me? I realized once again that I have outgrown the characters. Interestingly enough, I enjoyed The Forgotten (John Puller)
by David Baldacci. I haven't read many books by Baldacci, and it was the first one I was reading in the John Puller series.
Although I knew that I have outgrown the books in the series that I have been reading for over 17 years, why do I purchase the books? Because they are comfortable, they are familiar to me. And in this instance, that's not a good thing. But one of the things I realized from my reflection is that all the authors of the series above are excellent writers, so perhaps I need to explore some of their other books. We have to push ourselves outside our comfort zone, how can we generate innovative ideas if we do the same-old, same-old, if we remain comfortable?
If you are at a fork in the road and you have to decide whether to move on or stay the course, look at the pros and cons of each decision. Which choice will take you closer to your end goal? Please let me know your thoughts in the comments section below. Liked this post? Share it and subscribe to my RSS feed and get loads more!
Author Bio: Avil Beckford, an expert interviewer, entrepreneur and published author is passionate about books and professional development, and that's why she founded The Invisible Mentor and the Virtual Literary World Tour to give you your ideal mentors virtually in the palm of your hands by offering book reviews and book summaries, biographies of wise people and interviews of successful people.
Book links are affiliate links.
Kindle