Books Summaries: Around the World in 120 Days!
This is the second week, day two of the book summaries for Around the World in 120 Days for The Invisible Mentor's Virtual Literary World Tour. Last week we stopped our Tour in Montreal, Quebec, Canada. This week we will take a side trip to Jamaica for three books: The Duppy by Anthony C. Winkler, No Telephone to Heaven by Michelle Cliff, and Brother Man by Roger Mais, which we did yesterday. We departed from Jamaica, and now we are back in Canada to spend some time with Paul Quarrington's Whale Music, and finally, we arrive on the international scene in Iceland with Under the Glacier by Halldór Laxness and Silence of the Grave by Arnaldur Indriðason.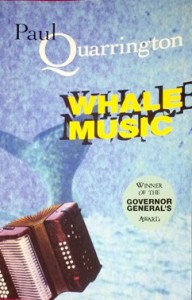 Update: Last week I indicated that after spending over five hours I wasn't able to embed the Google Earth Tour I created for the blog. I created my script and narrated the journey. I played it on Google Earth and it worked beautifully. I watched several videos on how to embed a Google Earth Tour on your website and none of the instructions worked. I wondered if I was doing something incorrectly. It was gratifying to learn that I wasn't the only one who couldn't successfully embed a Google Earth Tour – it also appears that most people who create Google Earth Tours do not embed them on websites. Google is offering a class on Google Maps and Google Earth (Mapping with Google), and I have enrolled. I am alerting my readers in the event that some of you may want to take the course as well. So back to the Virtual Literary World Tour without the technology piece for now.
This week on the Virtual Literary World Tour we get a glimpse into one side of Jamaica, and the interview with Marcia Mayne gives us another side. In Paul Quarrington's Whale Music, we experience drug and alcohol induced stream of consciousness through the eyes of the character Des Howell. Halldór Laxness and Arnaldur Indriðason take us into Iceland, and Runa Magnusdottir talk to us about her must-read books, favourite dish and much more. You have met Runa before, I interviewed for the blog a couple of years ago.
Around the World in 120 Days, Week Two, Virtual Literary World Tour
The Duppy by Anthony C. Winkler, 2008
No Telephone to Heaven by Michelle Cliff, 1987
Brother Man by Roger Mais, 1954
Whale Music by Paul Quarrington
Under the Glacier by Halldór Laxness
Silence of the Grave by Arnaldur Indriðason
Whale Music by Paul Quarrington
Whale Music
by Paul Quarrington won the Governor General's Award, and the reader can clearly see why. Despite this, I struggled with this book, but I stuck with it and allowed the character Des Howell to take me into his world of Rock 'n' Roll, drugs and alcohol. The book moves between the past and the present. Today, Des is a recluse, alcoholic and hooked on pharmaceuticals. He subsists on jelly doughnuts. He is obsessed with composing Whale Music although his producers tell him it doesn't have any commercial viability.
One morning when Des awakes, he discovers a girl sleeping on his sofa. He learns that she is from Toronto. Des and Clair get into a routine, and she has a calming effect on him. She cooks and cleans the house. One day while she is sunbathing she falls asleep, Des notices that her bum is burning so he innocently gets some suntan lotion and starts to apply it, she wakes and goes ballistic. Des who is suffering from erectile dysfunction explains what he is trying to do and Claire tells him that she doesn't like people touching her. Immediately the reader senses that she has been sexually abused, and later in the book, we learn that her father repeatedly sexually abused her.
We see Des evolving, but he still has his problems. One day he gets upset because Claire allows people to enter his home. She gets mad and leaves. Des realizes that he misses her and goes in search of her – this is a huge step for him because he is emotionally distant. In Whale Music, we see how passion can drive someone to create beautiful art. Paul Quarrington is very artful and inventive in the way he unfolds his story, weaving in music greats such as Stevie Wonder, the Beatles and Elvis Presley into the story line. Although I experienced a lot of angst while reading Whale Music by Paul Quarrington, I also found myself laughing a lot as well.
Paul Quarrington Life In Music Documentary (Trailer)
If you cannot view the YouTube Trailer, click here.
Under the Glacier by Halldór Laxness
Under the Glacier by Halldór Laxness borders on the inventive and the bizarre. But then again, the bizarre nature of the book could be attributed to the author's inventiveness. I previously reviewed Jules Verne's Journey to the Centre of the Earth, well Laxness mentions the character, Otto Lidenbrock several times in his story, Under the Glacier. In Journey to the Centre of the Earth, Jules Vernes talks about Arne Saknussemm, a 16th century renowned Icelandic scholar and alchemist, and so does Halldór Laxness in Under the Glacier. I think it's inventive when you take a character from one story and place them in another.
In Under the Glacier by Halldór Laxness, the Bishop of Iceland sends his emissary, a 25 year old man on a fact-finding mission to investigate charges against Pastor Jon Jonson. It's being said that Pastor Jonson is not doing his work and seldom preaches, and doesn't bury the dead. It's also noted that the pastor married decades before but the marriage was never consummated, and the Ministry of Ecclesiastical Affairs wants to know why he hasn't divorced his wife, Úa. The emissary is to visit the region in Iceland where Jonson is located and inquire about pastoral life and discharge of pastoral duties. The Bishop tells his emissary that he is not interested in his interpretation, the Ministry of Ecclesiastical Affairs will do all the interpretation based on the information gathered – they will listen to the taped recordings of the interviews.
Although this book bordered on the bizarre at times with it otherworldliness, I couldn't put it down because I wanted to know what happened next. For instance, in the story, Pastor Jonson is talking to business tycoon, Dr. Godman Syngmann, who Ua left with over 20 years before. The businessman tells the pastor that Úa telegrammed him 3 years ago saying that she had died (yes you read correctly, the dead notified others that she had passed away). When Dr. Godman Syngmann tries to bring her back to life, he accidentally turns her into a fish. The emissary sits quietly in the corner recording the conversation.
"Dr. Syngmann: In my book on bioastrochemistry it is explained chemically what demons are and why they have multiplied so excessively upon earth. There is no means of destroying this lethal substance except with the help of higher sentient beings on more developed stars. In another book, I have explained the law of determinants and shown how intergalactic communication depends upon knowledge of cosmobiology and biodynamics. The object is to eliminate time and distance." Hmmm!
The next day Dr. Godman Syngmann dies, and his butler notifies the tycoon's four wives in different countries about the death. None of the wives respond, however, after the funeral, Úa returns. The emissary interviews her and the story keeps on getting even more bizarre. Úa seduces the young man, so they decide to leave together. The car Úa is driving breaks down, so they decide to walk because the house where her parents live is close by. She tells her beau to wait while she speaks to her aged parents. She disappears, and shortly after the emissary hears a maniacal laugh and it's Úa's. It terrifies him and he runs away – she isn't human, or is she?
Silence of the Grave by Arnaldur Indriðason
In Silence of the Grave by Arnaldur Indriðason, a young medical student goes to pick up his little brother at a birthday party, but the young lad refuses to leave because he is having so much fun. Feeling very out of place, the medical student notices that a toddler is sucking on a bone. He takes it from her and is convinced it's a human bone. The child wails, and the mother decides to investigate what's wrong with her daughter. The medical student tells the mother that toddler is sucking on a human bone, the mother discovers that her son, the birthday boy found the bone, brought it home and washed it thoroughly. He takes them to where he found the bone, and they realize that someone has been buried there so they call the cops.
An International Bestseller, Silence of the Grave by Arnaldur Indriðason is an installment in the Reykjavík Murder Mystery series. The subject matter in this book is difficult to read because it is about domestic violence, living with the associated fear, and what can happen when victims decide to push back. We encounter failed relationships, heartbreaks, broken homes and the impact that has on the children. In the story we see Erlendur and his team, Elínborg and Sigurdur Óli solving the crime, the story moving the past of over 50 years ago and present day. The pace of Silence of the Grave by Arnaldur Indriðason is very different, somewhat slower than the pace of North American detective stories. I appreciated Silence of the Grave more than I did a later novel, Voices by the same author, which I had read two years ago. I think I am becoming more accustomed to different styles of writing, and the way culture impacts writing style.
Interview With Runa Magnusdottir
Avil Beckford: If someone asked you why they should visit Iceland what five pieces of advice would you give them and your response could include must places to visit?
Runa Magnusdottir: 
Blue Lagoon – it's just one of those heavenly places no one should miss.
The Thorsmork (because you will see the volcano ash sand, rivers, green hills a glacier & a glacier lagoon – all in one spot.
Bring with you clothes for all occasions – warm and cold. Be sure to bring swimsuits  because all our swimming pools are open all year.
They should visit Iceland, if they want to do something different – visit the #1 destination in the world today – if they love nature and want to be part of it.
Avil Beckford: If you could recommend five books for people to read, what would they be, and hopefully, some of the books would include books by and/or about a prominent Icelanders.
Runa Magnusdottir: I would recommend books by the following Icelandic authors:
Yrsa Sigurdardottir (Click here for books by Yrsa Sigurdardottir)
Halldór Laxness (Click her for books by Halldór Laxness) CLICK HERE
Arnaldur Indridason (Click here for books by Arnaldur Indridason )
Of my own favorite books it would be:
The Leader Who Had No Title, Robin Sharma
The Speed of Trust, Stephen M.R. Covey
Delivering Happiness, Tony Hsieh
Avil Beckford: What's your favourite Icelandic dish and what is the recipe?
Runa Magnusdottir: It's lobster tail… BBQ with loads of garlic & parsley – CLICK HERE
Recipe for Lobster Tail
Clean the lobster tails – open them up slightly with knife.
Melt butter with garlic and parsley and drizzle over the lobster meat.
Put in the oven on GRILL 230°C for about 5 minutes.
Serve hot with garlic bread and rice.
Avil Beckford: Who is your favourite Icelandic musician?
Runa Magnusdottir: I've got few favourite Icelandic musicians… Pall Rosinkrans, Pall Oskar, Of Monsters & Men –Emiliana Torrini – Studmenn, even my son Maggi! 
Book List for Week Two, Virtual Literary World Tour

The Duppy

, Anthony C. Winkler, 2008

No Telephone to Heaven

, Michelle Cliff, 1987

Brother Man (MacMillan Caribbean Writers), 

Roger Mais, 1954

Whale Music,

 Paul Quarrington

Under the Glacier, Halldór Laxness
Silence of the Grave: A Thriller (An Inspector Erlendur Series), Arnaldur Indriðason
The Painted Canoe 

, Anthony Winkler

In My Father's Shade

, Rachel Manley

The Harder They Come

, Michael Thelwell

From Harvey River: A Memoir of My Mother and Her Island

, Lorna Goodison

The Children of Sisyphus (Caribbean Modern Classics)

, Orlando Patterson

On the Road

, Jack Kerouac

The Dew Breaker

, Edwidge Danticat

The Leader Who Had No Title: A Modern Fable on Real Success in Business and in Life, Robin Sharma
The SPEED of Trust: The One Thing That Changes Everything, Stephen M.R. Covey
Delivering Happiness: A Path to Profits, Passion, and Purpose, Tony Hsieh
How many of these books have you read? How many would you like to read? Please write your comments in the box below. Book links are affiliate links.